"Rooting Memories & Leaving A Leaf Print Behind"
Graduating MBA Batch 2021-23 of IIM Bodh Gaya emphasizing the significance of going green, and conducted a Pre-Convocation Event Rooting Memories & Leaving A  Leaf Print Behind on May 5th 2023. The wonderful thought behind the gesture is that humans are mortal, but the memories are not, and so by sowing saplings on IIM BG campus ground  the passing out batch will leave its permanent mark for the coming generation of IIM BG fraternity.
These trees will symbolize growth, perseverance, and responsibility towards planet Earth. IIM BG puts it vision and mission of mindful leaders to practice, by the act of rooting memories. 
The tradition of rooting memories is being started with each batch keeping in mind the trees go on to live for hundreds of years, being the place of shelter, just like our memories. Trees provide us with the basic necessity of life oxygen and memories are the only thing we live for.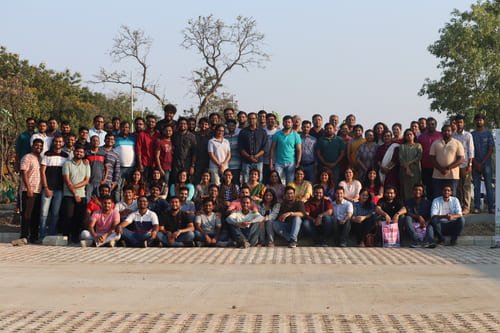 IIM BG sends off their 2021-23 batch students with a promise to nurture Mother Nature before they embark on the life journey. This is another milestone achieved towards creating mindful managers who care about the environment and the planet as a whole.
Walking into the next phase of their life, students were joined in a legacy that will begin a new era of sustainability and mindfulness. The students were engaged in a solemn commitment of planting trees through which they will be rooting memories, and each student's names are to be engraved on these trees for posterity to cherish. 
The pledge that the IIM BG passing out batch of MBA Batch VII (2021-2023) took for  Rooting Memories & A Leaf Print  is:
I pledge to plant a life on this day every year.
This is my little contribution in making the earth green and liveable for future geenrations."
MBA BATCH VII (2021-2023)
The memories that they have made on the campus will be embedded in the roots of these trees, and every time they come back to visit, they will be able to relive those moments.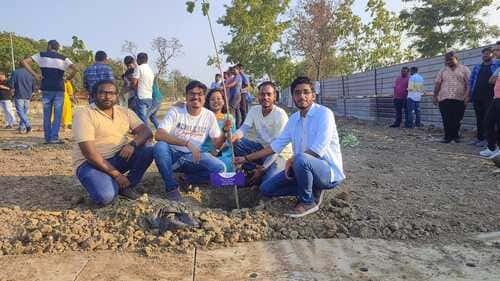 IIM Bodh Gaya focusses a large amount of resources on nurturing entrepreneurship in order to instil a culture of enterprise among the students.
Aligned with the aim of fostering entrepreneurial spirit,  motivating the MBA VII Graduating Batch 2021-23  are two eminent founder-CEOs of India's most successful startups, the two honourable guests Ms. Falguni Nayyar, a successful banker turned entrepreneur who has scaled a fledgling e-commerce company Nykaa to a Unicorn and subsequently a publicly traded company in just over a decade and Mr. Gaurav Gupta, the Founder and CEO of MoneyWide, an RBI licenced fintech NBFC which is part of PolicyBazaar group will grace IIM BGs 5th Annual Convocation on May 6th 2023.