Typically, marketing is aimed at commuters during morning and afternoon rush hour – and this makes a lot of sense. But what about the other 12 hours of the day? The world doesn't stop after typical work hours, and people are generally more inclined to pay attention to things when they aren't in a rush or stressed after a long day. Your business and your brand could be gaining attention 24/7 – here are 6 ideas on how to start:
Use Neon and Well-Lit Street Advertising for Night Time Aesthetics
Aesthetics are a massive part of marketing and promoting your brand, and a bright, neon and eye-catching poster or billboard against the dark night sky would be a picture-perfect opportunity that would soak up the attention from the high street nightlife.
Research the Lifestyles of your Target Audience
If your target audience is a specific group of people, researching their typical behaviours will drastically improve your marketing statistics. For example, advertisements for a new brand of vodka would be viewed and taken notice of considerably more around a busy bar area during typical drinking hours.
Create Day and Night Theming
Creative and well-designed theming can be the backbone of your brand. For example, the intelligent theming of the billboard poster for BBC One's Dracula had wooden stakes stuck into the board during the day – but as night came around, the stakes created a silhouette of the main character's face, proving that day and night marketing is possible even in the same advertisement.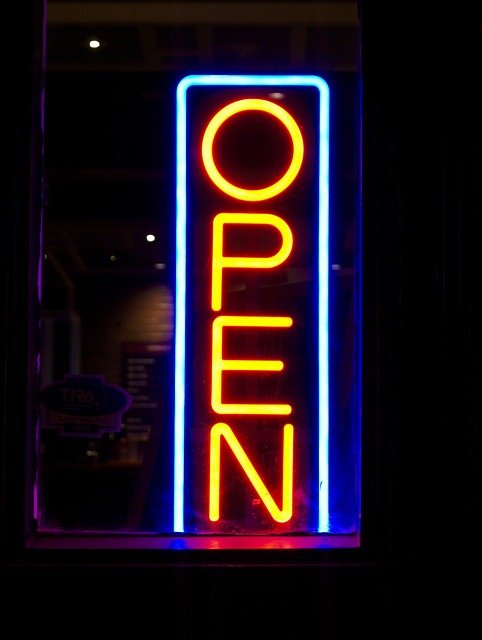 Take Advantage of Night Life Exclusive Advertising Opportunities
Night clubs are a perfect example of an advertising opportunity that will be exclusive to the nighttime hours. Posters, bus stop advertisements, street advertising, and other promotional techniques on the high street would be widely spread throughout the nightclub community, and is a move that brands should consider to carry their marketing into the later hours.
Aim Branding Towards Night Owls
Bartenders, chefs, cleaners, firefighters and other essential workers to name a few will commonly be working night shifts and sleeping during the day. Artists, students and insomniacs are active during the night, and brands can use this knowledge to aim their advertising towards building their audience and increasing consumption of their service.
Build Your Social Media Brand
For the night owls in your audience, social media is where you will reach their attention reliably. Browsing phones and laptops when the rest of the world seems asleep is something we have all been guilty of at some point or another. A professional and well-put-together social media presence will make sure your brand is available for views at any hour of the day, and using targeted advertisements will ensure that you intrigue and impress the consumer, and they are likely to pay the most attention.
And there you have it – 6 ideas for ensuring your marketing strategy works during both the day and night for a truly 24/7, 365, reach. After all the research and design upgrades, you should be able to elevate your marketing strategies to ensure you are reaching the biggest audience possible for your brand, every hour of the day.