Lord Rama's birthplace will welcome international jets, superfast trains, upmarket hotels, and housing for Indian pilgrims from abroad
Ayodhya, an ancient Indian holy city on the banks of the Sarayu river in the northern state of Uttar Pradesh (UP), was caught in a time warp for centuries. All that is now changing as it undergoes a rapid makeover, symbolically ushering in a cultural renaissance.
Ayodhya is one of seven holy cities where a temple to Lord Rama, the hero of the Hindu mythological epic Ramayana, is situated. The temple stands at what is considered to be his birthplace.
From 1986, the site was the eye of political-legal storms. Some believe it was originally the venue for a Hindu temple that was demolished to construct a mosque known as Babri Masjid. Muslims claim that the land was titled to them and the mosque was built here in 1528 on the orders of the first Mughal emperor, Babur. However, the controversy ended with a Supreme Court decision in 2019 that ordered the disputed land to be given for the construction of a Hindu temple, while the Muslim side would compensated with five acres of land at a prominent site in Ayodhya to build a mosque.
Construction of Ram temple began thereafter, and it is due to be open for worship in early 2024.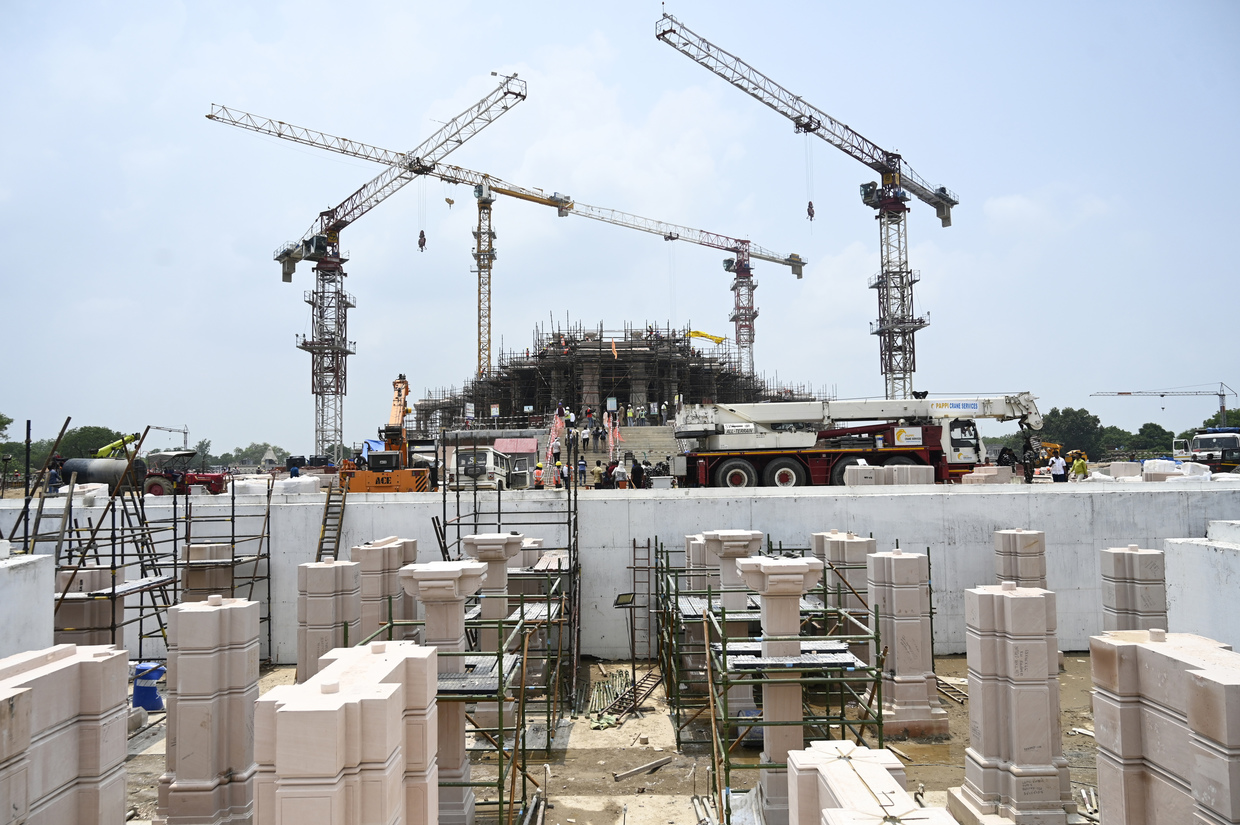 Its preeminence as a sought-after destination for Hindu pilgrims is on the horizon amid a massive infrastructure push for its makeover, or as the Hindus might say, its reincarnation.
A sprawling faith economy is in the works in this underdeveloped and impoverished eastern region of UP, where joblessness and crime have been rampant. Erstwhile government apathy, deep-rooted corruption, and blind faith led to social maladies, locals alleged.
The government of Prime Minister Narendra Modi is seeking to change that age-old narrative. According to the temple town's residents, the transformation is powered by a "double-engine" Bharatiya Janata Party (BJP) government initiative – with Modi at the federal level and backed by Yogi Adityanath, the Hindu monk-turned-UP chief minister in his second consecutive term.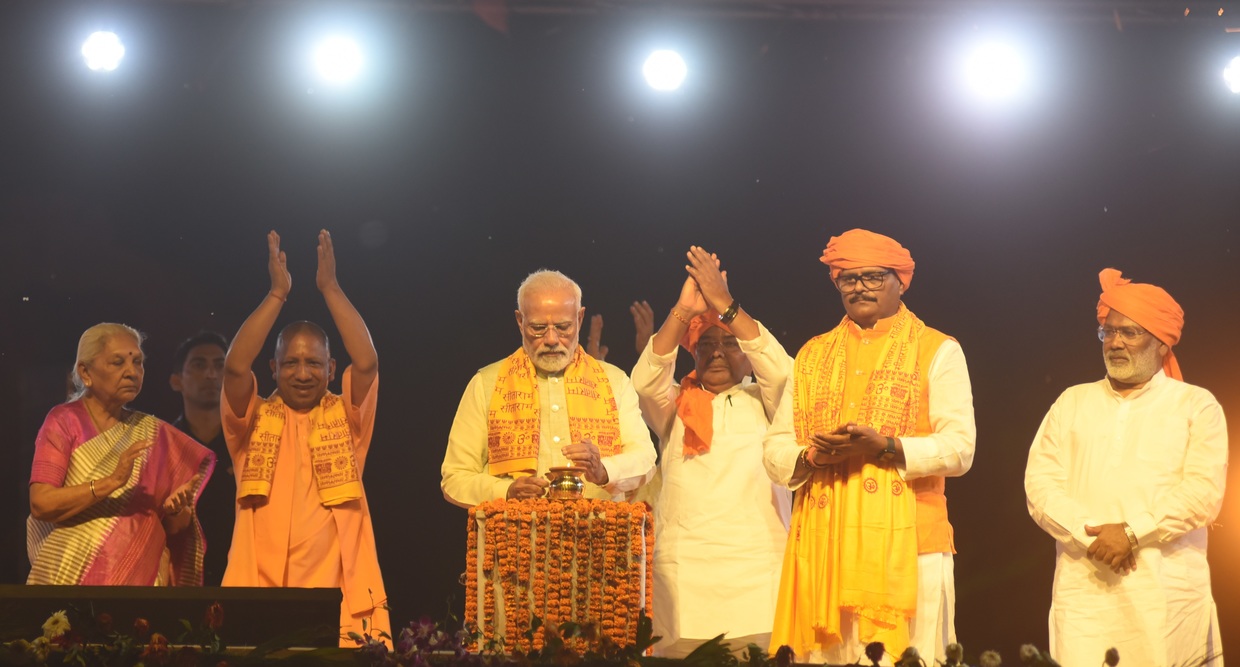 Amit Singh, additional district magistrate (executive) of Ayodhya, said the state government is placing emphasis on urban planning to transform the temple town and its adjoining areas – the district known as Faizabad till 2018, and now known as Ayodhya – into a leading spiritual hub.
"Work is in progress at a breakneck speed to cater to an uptick in tourist footfall in line with the new master plan 2031. The three main thoroughfares of the town are being widened between 20 and 14 meters to ease traffic congestion and the work is likely to be completed by December," Singh said.
Read more

From Dostoevsky to Gorky: This little book haven keeps the Russian spirit alive in India
"The remaining road extension projects near the Ram temple will be completed by early 2024. Altogether, 35 new parking centers are being built. The main railhead, Ayodhya Junction, is being beautified and the under-construction station resembles the Rama temple. Around 35 historic 'kunds' (ponds) are also being restored. All the buildings' facades in the town will sport a uniform color scheme such as saffron," added Singh.
On October 3, the UP government pledged that all clearances and compliance certificates would be given to private players planning to open hotels cashing in on the pilgrims' progress within a stipulated time frame of 100 days. Currently, only 30-odd facilities along with a few charitable inns and homestays exist.
"Ayodhya Housing Development Board has acquired 600 acres of land, where guest houses of state governments such as Tamil Nadu, Uttarakhand, Gujarat, Rajasthan, who have shown interest till date, will be built," Singh said, giving the interest a pan-Indian sweep.
"Plans are afoot to woo non-resident Indians (NRIs) with attractions like a solar cruise on the Sarayu River, a helicopter service, golf carts, a food court and a tent city on the banks of the Sarayu," he said. "A mobile application has been developed by the Ayodhya Development Authority for these services. Electric buses and charging facilities are also being planned as sustainable and green energy initiatives."
Work is also in progress on the Delhi-Varanasi High-Speed Rail Project via Ayodhya, which will cut travel down to two hours from the current ten.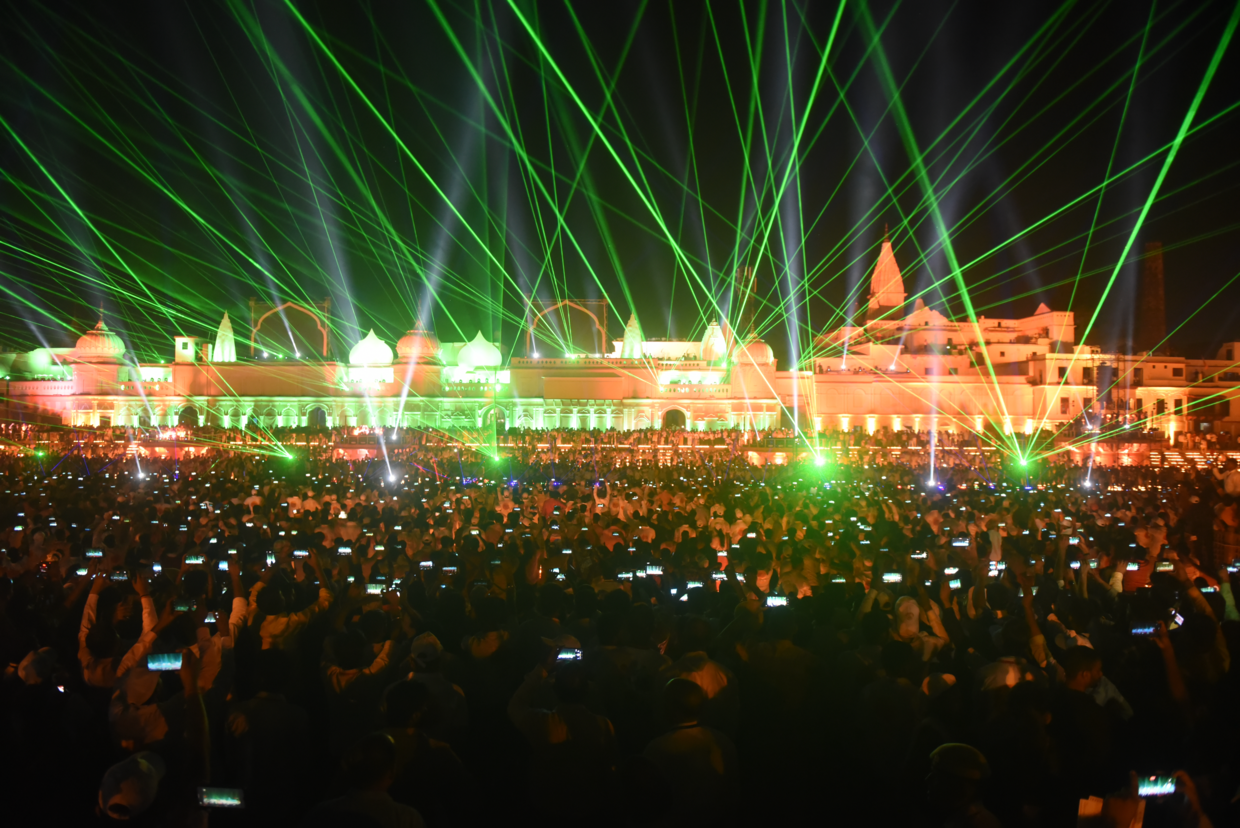 Ayodhya Dham, a radius of around 8km around the temple town that prohibits non-vegetarian food and alcohol, looks like a war zone with JCBs, road rollers, blockades, and barricades strewn all around. Work is at a frenetic pace to meet the deadline of the shrine's consecration – when the idol of Ram Lalla will be installed at the temple, on January 22, in the presence of Modi. Later, the shrine will be open to the public.
The BJP's Girish Pati Tripathi, mayor of Ayodhya Municipal Corporation and a former chief priest of the town's Teen Kalash Tiwari temple, pointed out that the UP government would foot 60% of the Rs 320-billion ($3.85 billion) cost that is earmarked for the town's growth and development, while the other 40% would be paid by the federal government.
Read more

Adrenaline, Etro, Chinski, and Emerald: Horses who galloped to the 2023 Asiad and cantered back with India's first gold in decades
"The ongoing infrastructure boom has led to employment opportunities for laborers from the neighboring districts," Tripathi said. "We are catering to around 200,000 pilgrims daily, despite the existing infrastructure inadequacies. Many of these pilgrims are from neighboring districts and come for a day's visit. However, the annual footfall is likely to go up to 40 million in the coming years."
Tripathi recalled that Ayodhya became South Korea's Gimhae's sister city in 2000 because of an historical connection.
Ashraf Hafeez, who plies a battery-driven three-wheeler during the day and retails clothes in the evening at a local marketplace, is looking forward to the "good times." He returned to his hometown from Mumbai a decade ago, and attributes his decision to divine intervention.
"I'm convinced that my impulsive decision was guided by Lord Rama's wishes, as faith can move mountains. I could become one of the beneficiaries of an imminent economic boom," he said.
A resident of Amaniganj, on the periphery of Ayodhya Dham, Ashraf demolished a part of his house to allow the widening of a thoroughfare. He anticipates an "economic boom."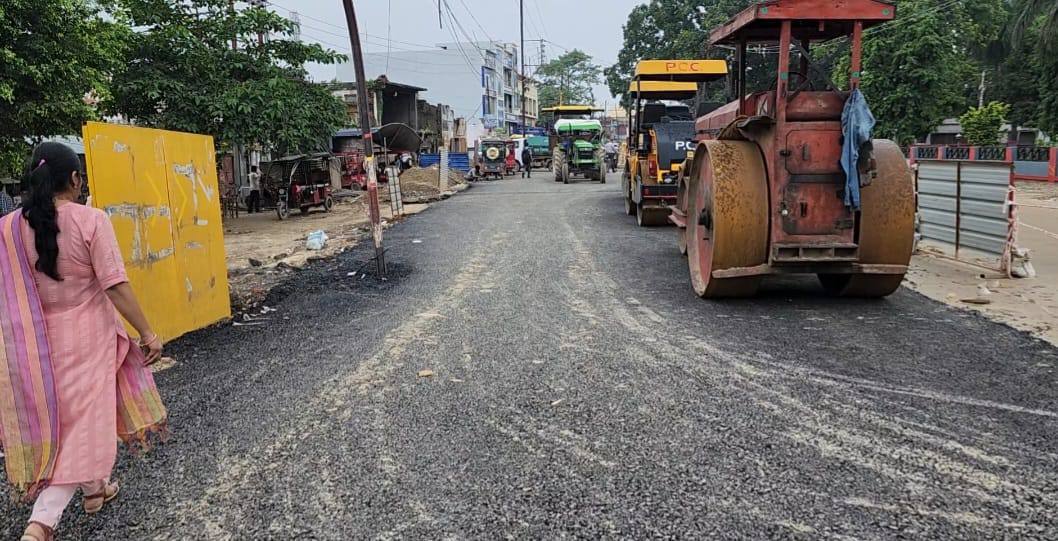 The construction of the first phase of the Maryada Purushottam Shri Ram International Airport, located on the city's outskirts, for the domestic sector is to be completed by the end of October and flights are likely to be operational by December.
"This will be a record for a brownfield project's completion within 19 months. Earlier, we had an air strip of 1,500 meters. We'll apply for a license from the Directorate General of Civil Aviation. So far, air operators have applied for seven routes. Initially, the terminal will have a capacity to handle 500 passengers during peak hours," said Rajeev Kulshrestha, general manager of the Airport Authority of India.
After the first phase, attention would be turned to the next two phases, including starting international flights. Operations are likely to be extended to the Buddhist pilgrim circuit in Lumbini in neighboring Nepal, and also to Sri Lanka.
Similarly, Indian Railways has started a train service known as Sri Ramayana Yatra, which covers the sacred places associated with the life of Lord Rama including an extended optional trip to Sri Lanka.
Rush for private investors
Read more

Icy Awakening: India fails to wake up its lunar mission from a long sleep in -200C°. What's next?
Ayodhya's potential economic boom is attracting private investors.
Sunil Rastogi, whose family has been in the local jewelry business for generations, decided to get into the hospitality sector even before plans of the temple's construction came to fruition.
"There was not a single standard hotel in the town," Rastogi said. "We had a prime property called Swayambar Lawn let out for weddings, birthdays, and other family functions since 2010. We opened Hotel Krinoscco two years ago, and despite the challenges such as the Covid-19 pandemic and the widening of the thoroughfares, business is picking up momentum. We've nearly 100% occupancy for the 60-room property, which is only 4km from the temple."
The fledgling hotelier is not a man in a hurry. "It may take 10 years to break even. However, I'd like to play the waiting game," he said.
Paying heed to Yogi Adityanath's call to make UP a $1 trillion economy by 2027, the House of Abhinandan Lodha, a Mumbai-based realty firm, is betting big on Ayodhya. It enjoys a first-mover advantage and has pledged an investment of Rs 12 billion ($144.18 million) in the temple town alone.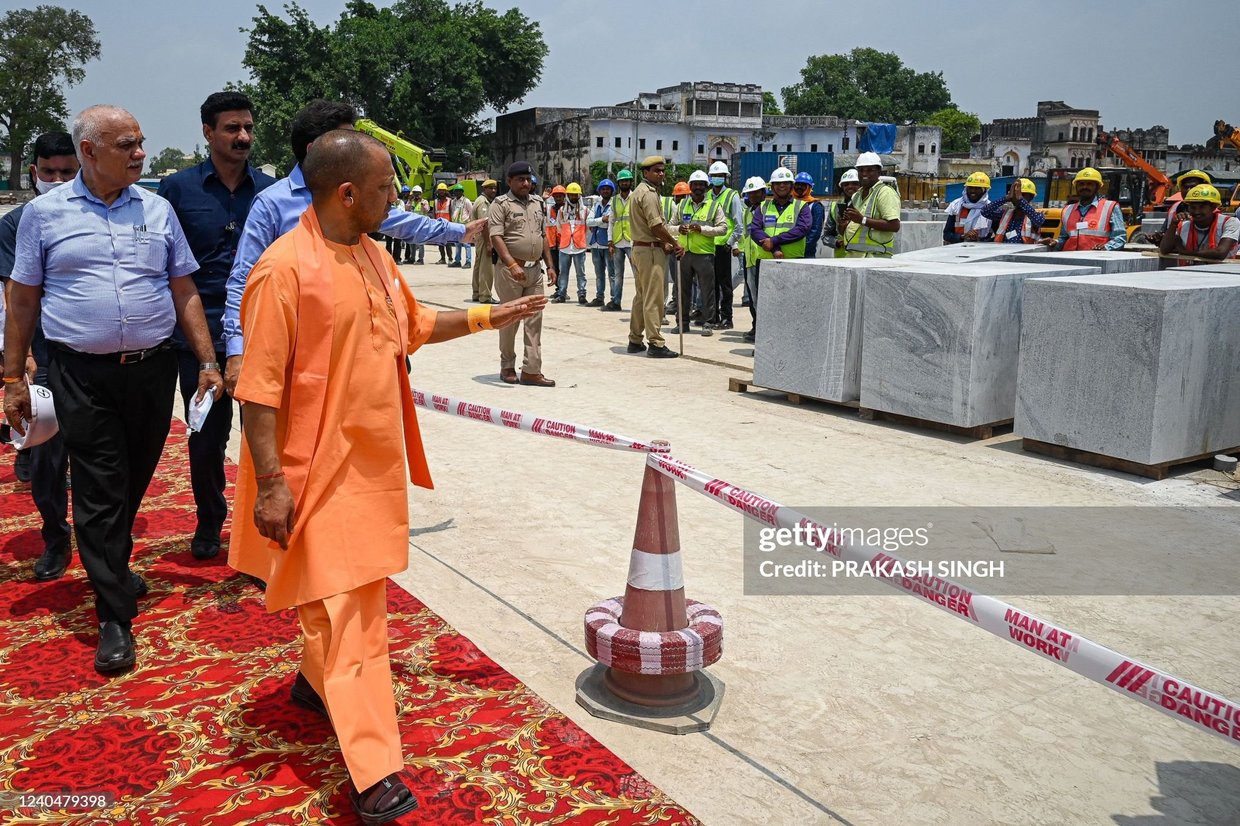 The company has begun to acquire 100 acres of land that is within 10km from the temple premises. It aims to develop plots varying between 120 square meters and 500 square meters, pending the civic authority's approval. It plans to sell branded land to its customers, especially a section of NRIs, to build their own houses.
Mahant Sri Vivek Acharya, a 13th-generation chief priest of Dant Dhawan Kund, which owns the highest land parcel in Ayodhya, said several leading Indian hotel chains have been in touch. "However, I'm yet to commit to any single hospitality chain," he said. "All hotels within the radius of Ayodhya Dham will serve vegetarian food in line with our beliefs."
October 27, 2023 at 02:05PM
RT