The pageant, hosted by El Salvador, includes several historic firsts
The 2023 Miss Universe pageant has proudly advertised allowing married women and mothers to participate for the first time, featuring a plus-sized model and two transgender contestants. In the November 18 final, Russia will be represented by a 22-year-old model from St. Petersburg.
Margarita Aleksandrovna Golubeva was finishing her studies in Moscow to become a federal customs agent when she won the Miss Universe Russia pageant. The eldest of four siblings got into modeling accidentally, going to audition for a dumpling commercial at the age of 15 and knocking on the door of a talent agency instead.
👑 Miss Russia 2023 Margarita Golubeva presented her Swan Princess outfit at the Miss Universe competition. pic.twitter.com/runawvPaOh

— Zlatti71 (@djuric_zlatko) November 17, 2023
Golubeva already wowed the audience with her Swan Princess outfit, modeled after a character from Pyotr Tchaikovsky's ballet, Swan Lake, at the national costume pageant on Thursday.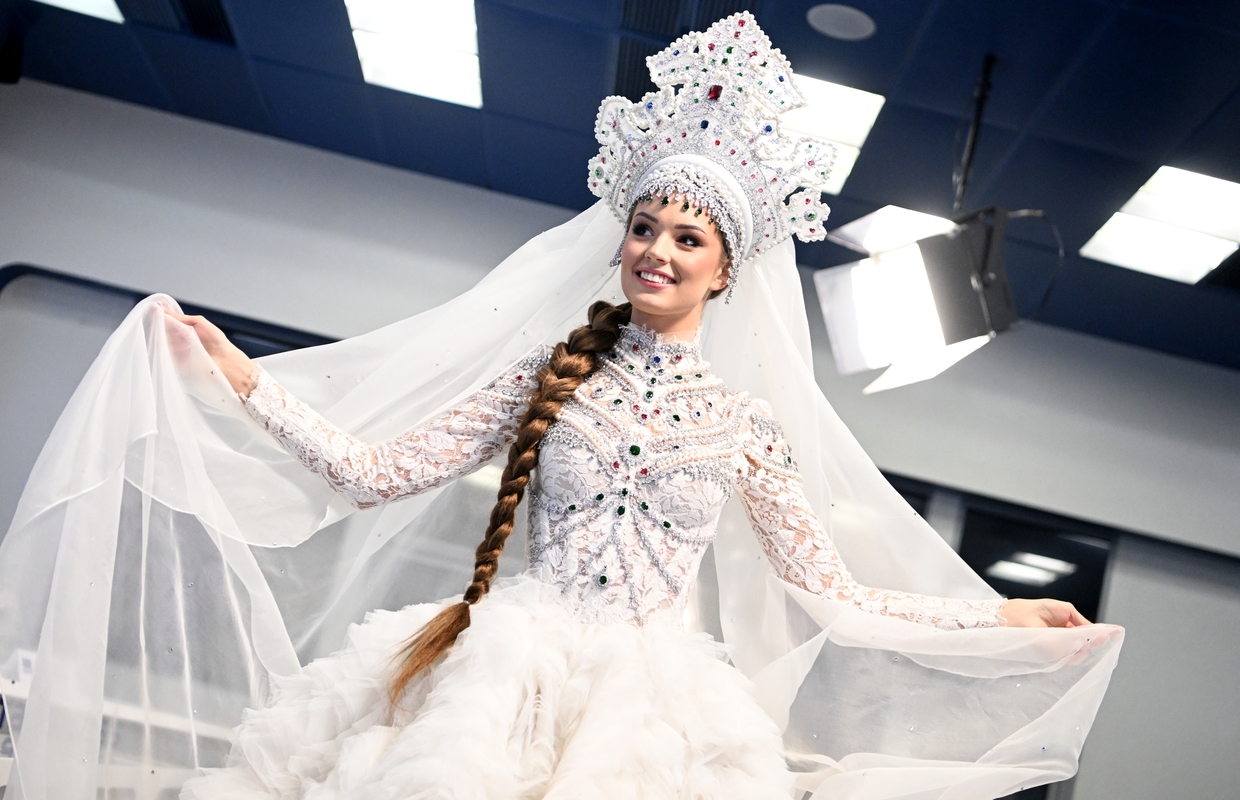 This year's pageant included contestants from 85 countries. Maria Camila Avella Montanez of Colombia and Michelle Cohn of Guatemala were the first wives and mothers allowed to compete. Jane Dipika Garrett of Nepal was the first-ever "plus-size" contender.
In another historic first, the competition featured two "transwomen," namely Marina Machete from Portugal and Rikkie Valerie Kolle from the Netherlands. Angela Ponce of Spain was the first ever "transwoman" to compete in 2018 but did not make it to the finals.
TRANS POWER! 🏳️‍⚧️

Netherlands' bet Rikkie Kollé and Portugal candidate Marina Machete make 'herstory' as Miss Universe features two trans women candidates for the first time.

(Courtesy: IMG Universe, LLC dba and MISS UNIVERSE,LLP) pic.twitter.com/UdTX7DyUQC

— ABS-CBN News (@ABSCBNNews) November 16, 2023
El Salvador has been eager to host the pageant and showcase the fruits of President Nayib Bukele's reforms in cutting down on violent crime and poverty. Bukele proudly shared the video of his country's contestant, Isabella Garcia-Manzo, wearing a volcano-inspired costume on Thursday evening.
🇸🇻🌋 pic.twitter.com/DcyrzO4cjZ

— Nayib Bukele (@nayibbukele) November 17, 2023
Miss Universe was once owned by New York real estate mogul Donald Trump, but he sold the pageant in 2015 after announcing his ultimately successful candidacy for the 2016 US presidential election. In 2020, the pageant was acquired by Thai tycoon and transgender activist Anne Jakrajutatip of the JKN Global Group for $20 million.
JKN Global filed a petition for "business rehabilitation" before a Thai bankruptcy court earlier this month. However, Jakrajutatip has offered assurances that this would not affect the Miss Universe pageant in any way.
November 17, 2023 at 11:59PM
RT