Nicholas Roerich found nirvana by building a house with a perfect view of the Himalayas, constructing it using age-old Himachali techniques. Despite the recent floods, it has literally stood the test of time
Almost a century ago, Russian philosopher and artist Nicholas Roerich traversed many lands in search of the perfect nirvana. That was until he arrived at Naggar in the north Indian hill state of Himachal Pradesh. Smitten by this picturesque western Himalayan hamlet – perched on emerald green hills, ringed by snow-capped peaks of the mesmeric Dhauladhar and Pir Panjal ranges, with the silvery Beas River frolicking in the valley below – he settled here almost immediately, spending his days lyrically capturing on canvas its vivid mountainscapes and the wild blue yonder.
Natural beauty apart, the painter and his wife Helena were thoroughly charmed by 'dhajji dewari' and 'kath kuni', the ingenious vernacular architecture of these hills, which further lent a picture-postcard appeal to the idyllic surroundings. Dwellings built according to these techniques have resolutely stood their ground for close to a thousand years, surviving natural calamity, including devastating earthquakes.
The recent calamitous floods in Himachal Pradesh, which the government is being petitioned to declare a national disaster, were testimony to the resilience of these structures which stood their ground – the Rorerichs' mansion among them.
Russian connection
A fine signature of 'dhajji dewari' is the Roerichs' stately home, where they resided along with sons George and Svetoslav. Their estate is now the International Roerich Memorial Trust. Founded in 1992-93 by Svetoslav, also a painter, it has galleries with soul-stirring artworks by both father and son; Russian as well as Himalayan folk art museums; and cultural centers that give a peek into the wide-ranging spiritual experiences of the senior Roerichs, as well as Tibetology works by George.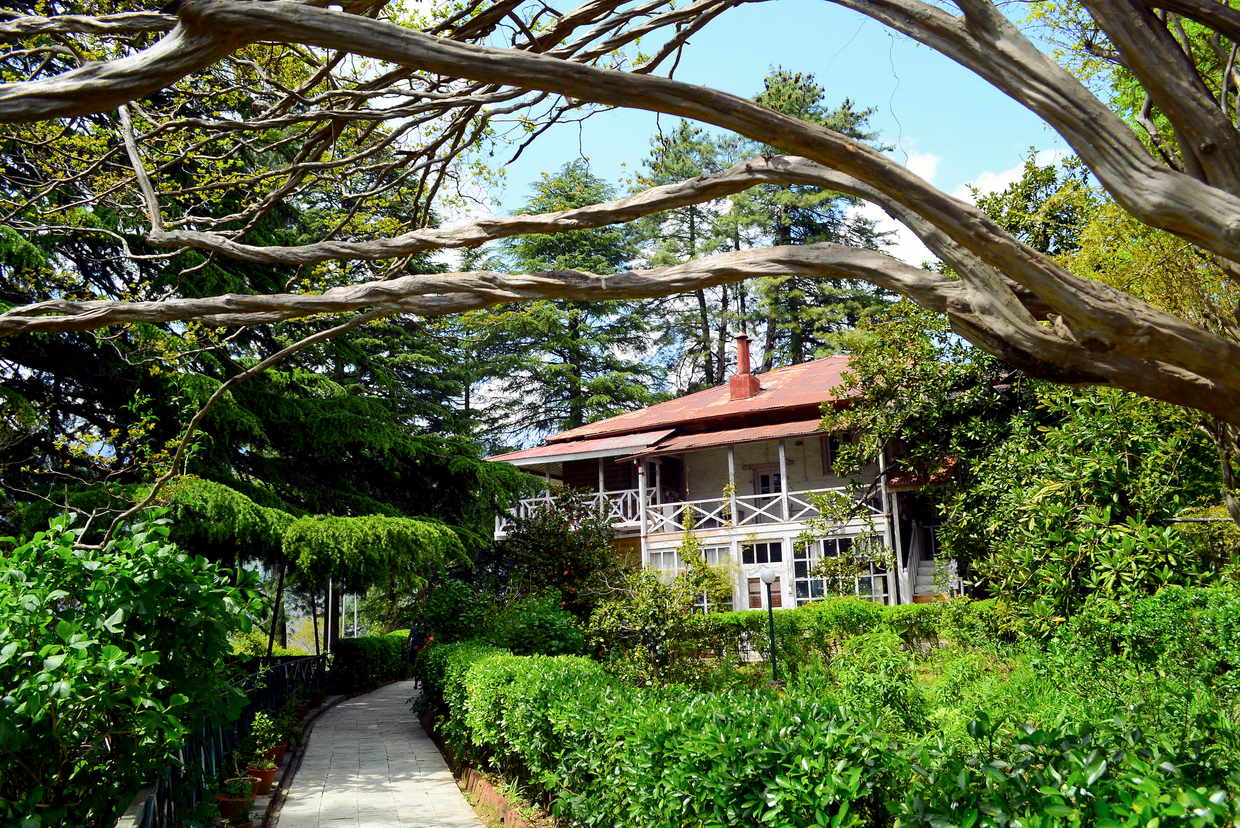 Visitors here are urged not to merely rush through the displays but pause and observe the structure that houses them. In the 'dhajji dewari' style which the Roerichs opted for, the fundamental frame is a criss-cross bracing of wood with an in-filling of river stone and mud plaster.
Contrastingly, the more striking 'kath kuni' technique has walls built with an alternate layering of stone fastened remarkably with nothing but dry masonry and horizontal timber interlocked at the corners. The term 'kath kuni' literally means wooden corner, and its stone-wood pattern lends the walls its distinctive candy stripe facade. The 1460 AD Naggar Castle, once the seat of power of the Kullu dynasty's Raja Sidh Singh and at present a tourism property, is a stunner of this form.
Read more

New Delhi and Moscow celebrate 'shared culture' with new exhibition
The castle along with the 1200 AD Bhimakali Temple at Sarahan, gateway to apple valley Kinnaur in eastern Himachal Pradesh, are two medieval-era 'kath kuni' jewels of the state.
Across this western Himalayan belt several architectural variations are visible, such as 'taq' in the Kashmir valley, 'koti banal' in the Garhwal division of Uttarakhand state, and 'himadri' as well as a cluster housing system called 'baakhli' in its Kumaon hills.
Taking a toll
Naggar is 21km from the tourist hub of Manali (beloved of international backpackers) and almost equidistant from Kullu, which famously offers rafting on the Beas River. The region recently saw a period of misery owing to flood fury, with torrential rain and multiple cloud-bursts leading to landslides and swollen rivulets running astray. Similar was the case in Shimla, the state capital about 250km away. The narrative wasn't too different in neighboring Uttarakhand's two divisions, with the Chamoli, Dehradun, and Rudraprayag districts of Garhwal, as well as Almora and Nainital in Kumaon, bearing the brunt.
Over 400 lives were lost and property worth Rs 12,000 crore ($1.4 billion) damaged; surface connectivity was drastically affected but more shatteringly, the hills were irreversibly and deeply scarred.
The catastrophic visual of these floods was concrete buildings collapsing like houses of cards. This destruction has turned attention to the resilience of conventional building methods, their zero carbon footprints, and all the wrongs being done to the fragile ecosystem of young fold mountains, the Himalayas, in the name of development.
Read more

Landslide in India's north wipes out city buildings (VIDEO)
How did the situation come to such a pass? Somewhere in the ongoing Great India Story, rewards of progress haven't trickled deep down. In a race to finish fast the inverted pyramid growth model has come into play, with the focus on developing smart cities rather than strengthening and smartening the foundation, starting at the village level. Fewer jobs and a lack of basic facilities at the base translate into migration to a bigger city and subsequent pressure on its infrastructure. In the hills, tourism drives the economy, the reason for rampant inorganic growth in popular destinations.
In the aftermath of the floods, the typical blame game has begun with the state machinery offering feeble reasons for the breakdown. Are development and urbanization the devils, is the defensive response from government agencies.
"No, implementation is the devil," says Harjit Singh, former general manager National Project Construction Corporation, and project head, Koteshwar Dam, under the Tehri Hydropower Complex, Uttarakhand. "Monsoon mayhem is an agonizing headline. What we've been witnessing over the past few years is not a natural disaster but an outright man-made tragedy. The cause is clearly evident. Utter disregard for land and its topography when giving the green signal to residential or industrial projects, and the unjustifiable expansion of highways using excessive explosives which cracks and weakens the slopes," he elaborates, even as he fumes over the rot of unaccountability that runs deep, eventually affecting implementation and the final outcome.
According to him, expansion in the hills is primarily to boost the tourism sector but equally pertinent is the need to de-intensify. "Growth should be organically structured. Switzerland has more visitor footfall than our entire country. Their infrastructure does not collapse,'' he stresses.
Famous #Panchvaktra temple of #Mandi city submerged in #Flood .#HimachalPradesh pic.twitter.com/RebNUrLAdT

— Smriti Sharma (@SmritiSharma_) July 9, 2023
Echoing those thoughts through his genre is multi-disciplinary visual artist Mukesh Shah, who belongs to the hills of Kumaon, and has seen its landscape transform drastically for the worse. His studio at Noida in the National Capital Region is stacked with works from The Last Soliloquy of a Mountain, a series he displayed at Lalit Kala Akademi, New Delhi, wherein his evocative abstract forms predict this disaster.
Paradoxically, though mountains are the artist's muse, the absence of the color green is conspicuous in his collection. "The terrains are denuded, rivers have changed course, cookie-cutter townships are bursting at their seams and new paths are leading nowhere. Life is slowly being snuffed out of the hills. The hand does not reach out for green hues," he trails off, adding: "Our attractive rustic homes dressed with likhai (wood carving) and aipan (ritualistic art) stand in ghostly silence."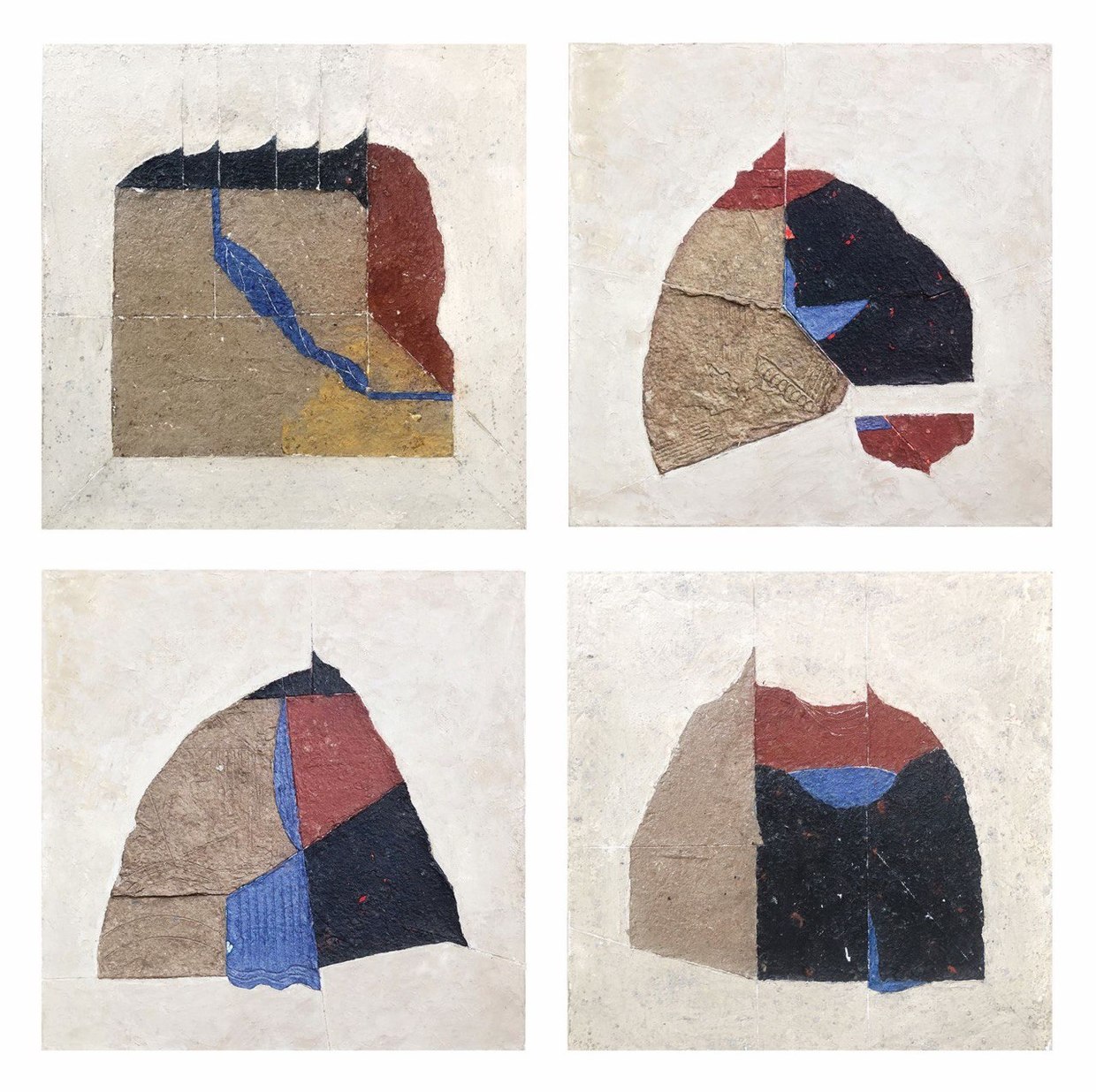 Showing the way
In this dismal scenario, providing a ray of hope is Naggar-based Rahul Bhushan, founder and creative director, NORTH, the Centre for Himalayan Craftsmanship and Design Innovation. Bhushan has made it his mission to preserve, restore, and construct according to age-old techniques of 'gara pathar chinai' (rammed earth) and the aforementioned 'dhajji dewari' and 'kath kuni'. In the past seven years since inception he has satisfyingly completed 50 projects in these hills.
Read more

The traveling swarm: Hordes of tourists are destroying this legendary mountain range
Vernacular architecture is fundamentally in complete harmony with its environment and structurally flexible, making it incredibly earthquake-resistant in this high seismic zone. "What is striking in such dwellings – and these have multi-storys which can easily be dismantled and rebuilt much like playing blocks – is the judicious mix of raw material. Wood gives form, stone lends weight, a mortar of hay and mud provides insulation. Added to that is a layout with a low center of gravity. Unlike today's vertical columns, traditional design has horizontal alignment allowing the structure a random degree of movement and stability," explains Bhushan.
In these times, with a surfeit of easily-available construction material, unlimited designs, and quick solutions at the touch of a button, it requires a mindset shift to opt for techniques that are centuries old. "Yes, but these have withstood every challenge," says Reena Devi of Shimla, who is finalizing plans for restoring her village house and yet making it a smart-home. "The building will be conventional but amenities contemporary," she smiles, thinking ahead of times when the house can draw visitors for an experiential stay.
Bhushan realizes the cost and time required to build indigenous houses is almost twice that of concrete ones and added to that is the shortage of timber. Tweaking the design minimally is the way forward, he says, recounting experiments to minimize all three factors via steel or bamboo in place of timber. "It's heartening to note changes in perception. Domestic demand always gets stimulated by government impetus. Recently, the district sanctioned a traditional 'dhajji dewari' structure with steel framework for She Haat, an exhibition venue at Kullu. Such initiatives are the need of the hour or else these remarkable time-honored techniques and its skilled 'karigars' (artisans) will be lost forever," he wraps up.
September 13, 2023 at 09:05AM
RT