Having taken place in six Russian cities, 'RT.DOC: Time of Heroes' arrives in the Turkish capital Ankara
The 'RT.DOC: Time of Heroes' film festival, which offers a glimpse into everyday life in war-torn Donbass, was held overseas for the first time last weekend. Four movies were shown in the Turkish capital on Saturday.
The event that took place at the Russian House in Ankara had been organized jointly by RT and the Russian federal government agency Rossotrudnichestvo, whose primary task is fostering cultural ties with other nations.
Since the start of this year, screenings of the documentaries have also been held in Moscow, Krasnodar, Kazan, St. Petersburg, Irkutsk, and Kursk. More Russian cities are awaiting the festival's arrival in the coming months.
The program in Ankara included four films. The first movie, Dr. Donbass: Behind the Frontline, directed by Olga Kiriy, tells the story of a doctor, Alinat, who helps wounded soldiers, both Russian and Ukrainian, as well as civilians near the front line in the Donetsk People's Republic.
She recounts how the hostilities began back in 2014, the conditions she works under, what her fears are, and perhaps most importantly, what keeps her going.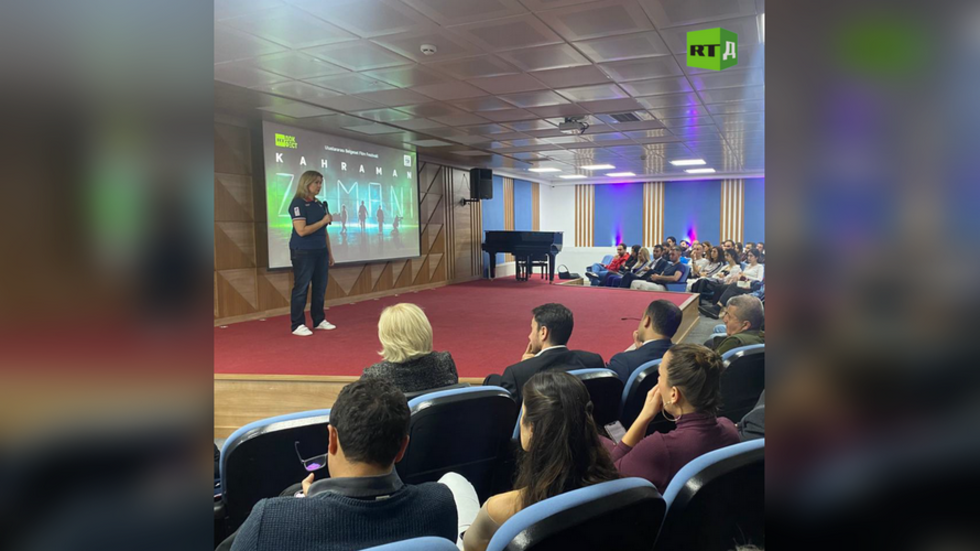 Another motion picture presented in the Turkish capital was Young Hope of Donbass by Olga Starostina and Mikhail Burov, which is about a young boy, Sasha, and his vocation helping others. Having survived a shelling that destroyed his family home, he resolves to do everything in his power to alleviate the suffering that surrounds him. Sasha joins the Food for Life charity, a volunteer project that supplies Donbass residents living in war-ravaged cities and towns with hot meals on a daily basis.
Read more

UN shown preview of RT documentary 'Journalists Under Fire'
Ekaterina Kitaitseva's Walking after War was another documentary which featured at Saturday's festival. It follows the first grueling steps made by Donbass conflict veterans who have lost limbs. The head of a medical center which provides ex-combatants with prostheses knows only too well what it takes to learn how to walk again from scratch, as he himself lost a leg years ago.
While most films presented at 'RT.DOC: Time of Heroes' were directed by Russian cinematographers, it also features documentaries shot by foreign crews. One such movie was Oblast ('Region') by the Turkish TV channel Ulusal, whose correspondents had visited Donbass.
At the event, viewers also got the opportunity to ask the organizers about the dangers of field work in a place where artillery shelling is an everyday occurrence.
November 14, 2023 at 04:38PM
RT